Fun logic games for kids
Develop critical thinking and logic reasoning skills with fun interactive games for children 6-13 years old.
TRY DEMO NOW FOR FREE
TRY DEMO NOW FOR FREE
What topics do our logic games cover?
START FREE TRIAL
Four reasons to develop logical thinking among kids
Successful realization in life and profession
Kids and teenagers need critical thinking and the ability to study new things with pleasure — at school, in everyday life, and their future professions.
Smart thinking and making conclusions
Both at school and home, young people need to know the reasons for the things happening and to guess what to do in different situations, even if they seem to be complicated.
Telling truth from lies and fake information
Logical thinking helps to find answers to the questions among the vast sea of information, see the main things and differ the truth among lots of lies and fakes.
Finding extraordinary ways of solving tasks
Creativity is undoubtedly one of the essential qualities in the modern world. Every human can develop it, but the earlier you start, the more effective the result is.
Try Edcraft educational logic games for free
Logic games for kids demo
Check out our interactive logic games by yourself or together with your child. It only takes 10 minutes and does not require registration.
Free of charge. No signup required!
TRY DEMO NOW FOR FREE
In EdCraft kids develop their critical thinking and logic reasoning skills by playing fun educational games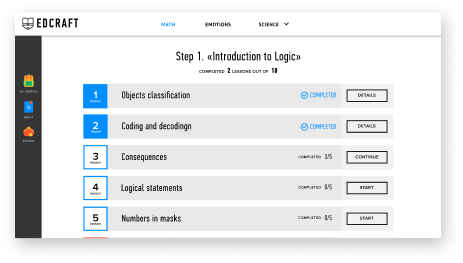 WELL THOUGHT-OUT PROGRAM
Logic games are developed on the basis of the best sources, the expertise of subject experts, methodologists and psychologists.
INTERACTIVE GAME STRUCTURE
The child solves plot game problems and helps the heroes of the game, meanwhile, learning new topics and improving his or her logical thinking.
KNOWLEDGE TESTS AND REWARDS
At the end of each topic, the child goes through a final game to test and consolidate knowledge and receives a diploma if successful.
Playing math logic games kids develop their problem-solving skills, enhance creativity and critical thinking
Carefully crafted by experts in kids education
Logic games are developed by subject experts from top US and international universities. Our games creators are doting parents, committed educators, and lovers of learning!
START FREE TRIAL
Develop your child's key thinking skills with our exciting math & logic games for elementary and middle school!
START FREE TRIAL
WHAT ELSE DO WE HAVE IN EDCRAFT?
Complete by yourself or together with your kid. It's fun, educational and takes only up to 10 minutes for the demo lesson.