Emotional intelligence
for kids ages 6 to 13
We introduce children to the types of emotions, how to manage them and express them in the society, resolve conflicts and be a nice person through situational games
TRY DEMO NOW FOR FREE
TRY DEMO NOW FOR FREE
Your kids will master the basics of emotional intelligence in 20 minutes a day
You will learn the types of emotions, how to show empathy,
how to work in a team and act in conflict situations in a story-driven game format.
We will reveal what you won't be told at school.
START FREE TRIAL
Learn the social skills of the future with EdCraft!
Emotions & Empathy
we will tell you about the variety of emotions, how to understand them and manage them
Teamwork & People
we will explore what roles are in the team and how to act accordingly
Conflict resolution
we will guide kids on how to act in the most common conflict situations
In EdCraft, children receive the crucial knowledge for the modern world through situational games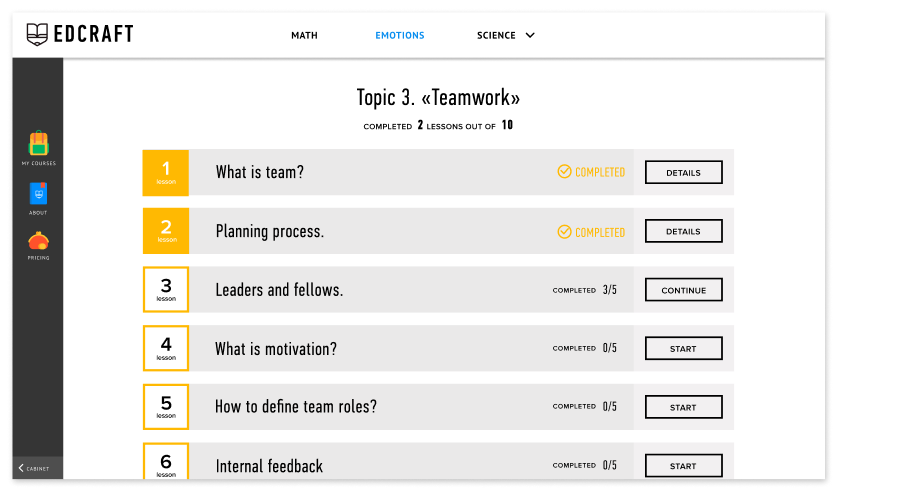 SOPHISTICATED PROGRAM
Units are developed on the basis of the best sources, the expertise of methodologists and psychologists, divided into 10 lessons with gamified tasks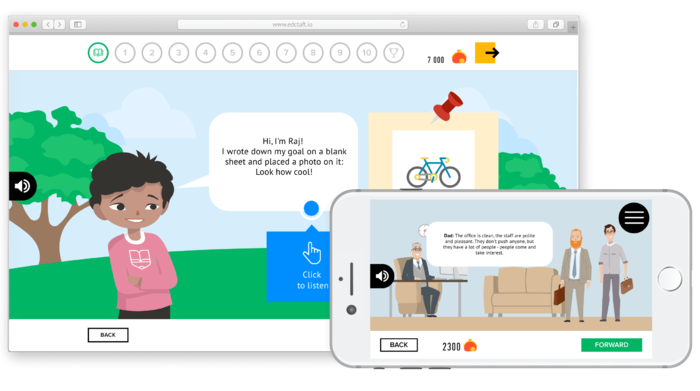 INTERACTIVE GAME STURCTURE
The child solves plot game problems to learn new topics and consolidate what he has learned in each course. No boredom! All the tasks are unique!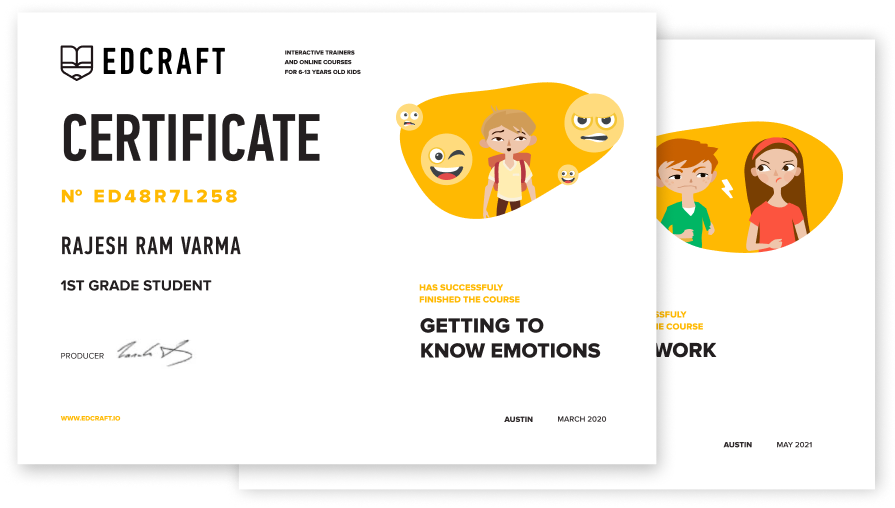 KNOWLEDGE TESTS AND REWARDS
At the end of each course, the child takes a test or completes a game, receiving a diploma if successful. You will be confident in your kid's knowledge!
Structure of each emotional intelligence course topic
On our emotional intelligence course kids will solve tricky social puzzles based on real life situations
EdCraft game-courses free demo
Unit 1.
Getting to know emotions
Check out our story-driven interactive courses that your kids will face in our social skills courses.
Free of charge. No signup required!
TRY DEMO NOW FOR FREE
What else do we have in EdCraft?
Complete by yourself or together with your kid. It's fun, educational and takes only up to 10 minutes for the demo lesson.
USER REVIEWS
Check out the feedback left on TrustPilot by our early users

Paul Davis
US
We want our children to be more successful than we are
I'm about finance man and I was searching for money management tools for my elder son, he is 11 yo. I suppose that understanding the value of money and how hard is it to earn is extremely important. You have to be able to appreciate other people and their achievements…
Last week I saw edcrafts ad on Facebook, so I requested a demo of their financial game. We tried personal budget topic right from iphone with Samuel.
Well, it works, the training format is good. Signed up for updates, waiting for the whole course to be released.

Alessandra Marissa
US
Sex education looks up-to-date
Met Edcraft on Facebook. The message was a bit aggressive and candid, so I decided to look deeper.
I've never seen sex education courses for kids before.
My oldest daughter is 10 yo, and I has already been asking tricky questions a couple of times. I suppose it's a high time to talk to her seriously about sex.
I'm going to offer her that course and see how she reacts.
Loved the learning program; also took financial literacy demo lesson.

Carrillo Mark
US
Let's try Edcraft courses
Samantha liked logic course. She was completely ready to save Maries dog from snatchers hands and solved all the puzzles. Ethan helped her twice, though. Ethan himself later said that emotion course was meant for girls like his sister, and he was interested in "managing more pocket money" instead.
I am trying to teach kids from an early age, they do even have their bank accounts, but they don't manage them yet. I take all the decisions, but they see the consequences on the balance.
Waiting for full courses in February.

Makenna Breanna
US
I've preordered financial literacy
I've preordered financial literacy. Hope they will launch full course in February as promised.
I'm fond of Kiyosaki ideas. It's a pity I got to know him too late.
When I was a student I took a lot of loans and only many years later I realized that these decisions were ineffective.
I hope my son won't step into my shoes and learn how to handle money properly.
Edcraft has cool interface, it works well on iPhone.