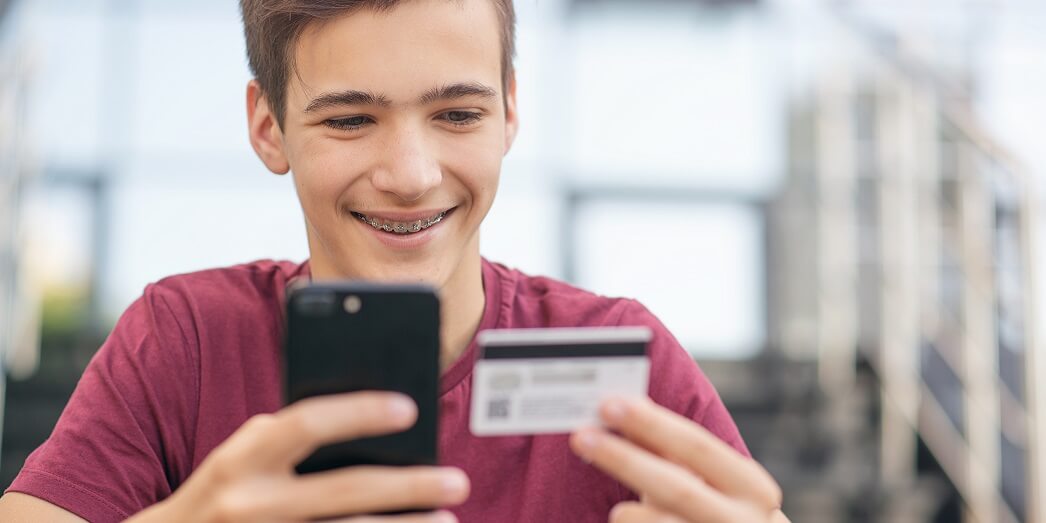 Tips for teaching your child about using a bank card
How to teach a child to use a bank card? How to accustom him to the fact that he can manage his pocket money on his own? How can you convince him that money on a bank card is a safer and more convenient way to store funds compared to cash? You will find answers to these and other questions in our article.
Bank card to help parents
Even at an early age, a child is quite capable of mastering the skills of safe use of a bank card. Therefore, if your kid is already showing features of independence, help him to become a little more mature. It's better to use a financial instrument such as a children's payment card.
The laws in different countries of the world have certain differences. This applies to the age at which a child can get a bank card. For example, in Canada, a child can get a card from the age of 6. In the UK, the minimum age is 11 years, and in the USA child can get a card from the age of 8. But unlike ordinary bank cards for adults, children's cards can only be debit cards. That is, the child can use money only to the extent that the parents have replenished his personal account.
Although in the UK, a child can get two types of cards. This is a debit (payment) card with which he will pay for purchases in stores, including on the Internet. Also, the child can get a simple cash card, which is intended only for storing and withdrawing cash from an ATM.
In this case, cards for children can be basic or additional — the account is tied to one of the parents' card. The choice of a particular card depends on the age of the child. For example, it is more expedient for children aged 6 to 11 years to get an additional payment card, and for teenagers over 11 years old — a main one.
The main advantage that a child uses a bank card when making purchases is the safety of funds and the safety of financial transactions. After all, the possession of a card completely eliminates the possibility of theft or accidental loss of cash. And even if a child loses his plastic wallet, it can be blocked in a matter of minutes and get a new one.
When are kids ready for their first debit card?
Before registering the first children's bank card, parents should independently assess how much their child is ready to make purchases in stores on their own.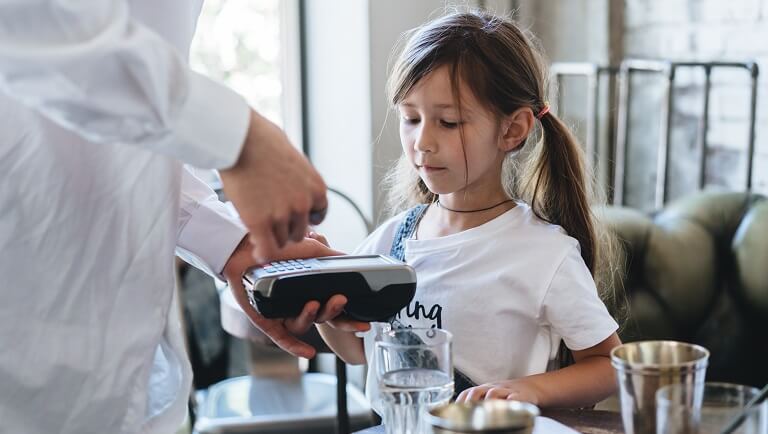 The presence of a payment card is much more convenient than cash if the child goes on an excursion or trip. He will not have to keep a large amount of money with him, but he can buy himself some kind of souvenir if necessary. And if he spends all the money from the account, then parents will be able to replenish the card anytime.
Many banks offer additional services to protect their clients' money. One of such products is the ability to connect the service of informing about all transactions carried out on the account to the card. Thanks to this, parents will always know where the purchase is made and for what amount.
Getting your first bank card is going to be a kind of ticket for a child to adulthood. Also, such a decision by the parents will help him learn how to properly manage the allocated pocket money and responsibly plan his expenses.
What are the advantages of a bank card for a child
In fact, a non-cash payment method provides a lot of advantages, including:
Mastering financial literacy as an adult is a very rewarding experience.
The ability to use bank services, for example, discounts and bonuses.
Safer storage and use of personal money.
Parental control over the child's expenses and the ability to quickly replenish the account if necessary.
The ability to restore the card if it is lost or stolen.
What is important to explain to a child before issuing a card
Even if your child is responsible, some aspects of using the card can be challenging for him. After all, for the first time, he has to be in a situation where, for example, he needs to withdraw cash. At the initial stage, such operations should take place under the supervision of parents. You must explain what each button on the ATM panel means, where to take money, and how to enter the secret code correctly.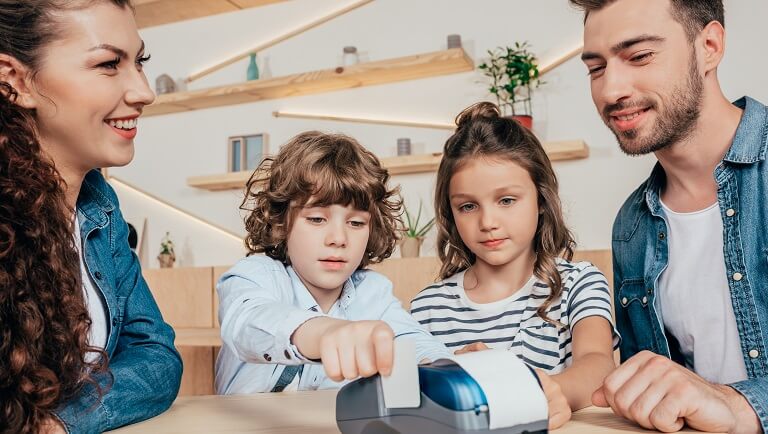 In addition, it's recommended to install the bank's mobile app on the child's phone, in which the card is issued. This will allow you to check the balance of the account  quickly and at any time, without using the ATM again.
Be sure to tell your child about the peculiarities of entering a PIN code. It should be noted that at this moment there should be no strangers near the ATM who can see the cherished numbers. If people are waiting for their turn to use an ATM, then the panel must be covered with a palm when entering the numbers of the code.
Other essential points a child should know about:
You cannot store the PIN-code in the wallet where the card is, as well as write it down to the smartphone, tell friends and acquaintances.
Never give a payment card for a long time to other people, including friends and relatives. Learn to be responsible.
It is forbidden to divulge any data that is on the card, since the card number and code on its back are confidential information.
You must always be careful, especially when withdrawing money from an ATM, so as not to forget to pick up your card and cash.
You can't provide the PIN-code, CVV code, personal data and other information that other people ask to be provided by phone. 

No one, including bank employees, doesn't need to ask it. They will never be interested in this information since they already have it.

If the card is lost or stolen, you have to inform your parents. They will contact the bank to block the old card and issue a new one. All the money will be restored.

Activating the SMS-notification service, which will come to the smartphone, will help control funds' movement on the account and the balance of the money.

Parents can set a weekly or monthly limit on the card. This means that the child can't spend over the limit.
When withdrawing cash, it is important to pay attention to the ATM. If there are additional overhead buttons on the panel (the so-called keyboard overlays) or the slot through which money is issued is damaged, you should not risk it. Overlays may read your PIN-code and send it to scammers. It is better to withdraw cash from another terminal.
How to control online purchases
It is essential to explain to the child that he or she should not enter his bank card details on suspicious online stores. Safe websites have an icon of a lock on the left side of the URL. It is better to shop in trusted stores with a good reputation, such as Amazon, eBay, Etsy and so on.
To buy a product on the Internet, the cardholder receives an SMS notification on his smartphone before confirming the payment. If the purchased goods arouse suspicions among the bank employees, then all client transactions on the account will be canceled.
Also, don't forget about such a service in the Internet Bank as "Safe online shopping". This is a separate section in your personal online account, where you need to register a child's card and to set a code word (not a password). That code word will be displayed on the pages of sites where purchases are made. If this word is displayed incorrectly or another word is indicated altogether, it is better to refuse purchases on this site.
These are all tips for today. We hope this helps teach your child how to use a bank card.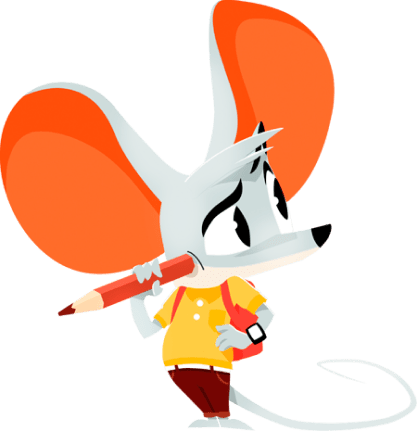 Subscribe to EdCraft!
Leave an e-mail so you don't miss
new engaging articles