Financial games for kids
7-13 years old
Just in a few months your child will learn how to manage and save money, work with bank products and investments — all in interactive game format.

TRY DEMO NOW FOR FREE
TRY DEMO NOW FOR FREE
Financial literacy basics in interactive game format
With the help of exciting financial games, just in a couple of months your child will be able to plan his or her finances, understand basic banking products and develop a remarkable level of financial literacy.
START FREE TRIAL
Try EdCraft financial games for free
FINANCIAL GAMES FOR KIDS DEMO
Check out our interactive financial games by yourself or together with your child. It only takes 10 minutes and does not require registration.
Free of charge. No signup required!
try demo for free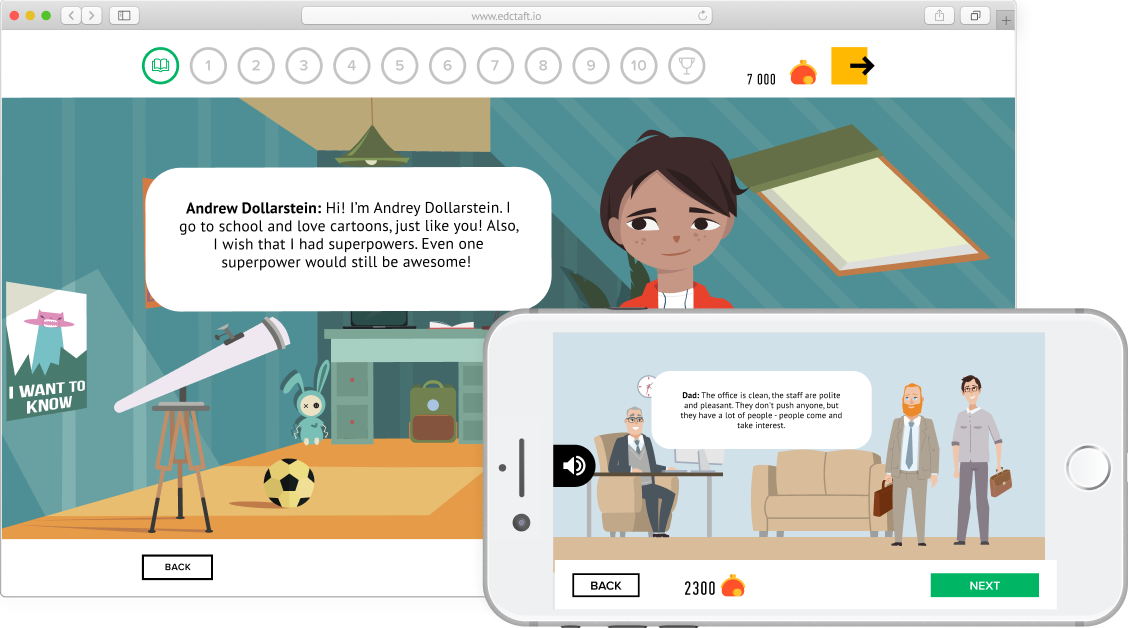 Why should you start helping develop financial literacy early?
Makes a basis of a child's future success
Nowadays, financial literacy is one of the most critical skills contributing to a child's future success. The earlier children begin to learn it, the more competitive they become later.
Enables children to use financial products wisely
It is highly significant for today's children to know how to apply for financial instruments correctly. We mostly live in the market economy and should know how to use it.
Develops children's logic and critical thinking
While learning the financial basics, a child will also train critical thinking and establish causal relationships. These skills come side by side and should be taken into consideration, too.
Trains mathematical and strategic thinking
Financial literacy includes the development and achievement of financial goals alongside calculating potential risks. This will help your kid to learn how to strategize and use his/her knowledge.
What topics do our financial games cover?
START FREE TRIAL
In EdCraft kids solve gamified tasks that help them to understand essential topics of economics, finance and business
Carefully crafted by
experts in kids education
Financial games are developed by subject experts from top US and international universities. Our content creators are doting parents, committed educators, and lovers of learning!
START FREE TRIAL
In EdCraft kids master their financial skills by solving games that motivate them and support individual traction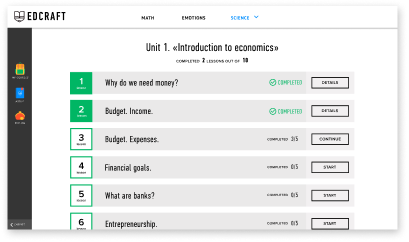 WELL THOUGHT-OUT PROGRAM
Games are developed on the basis of the best sources, the expertise of methodologists and psychologists.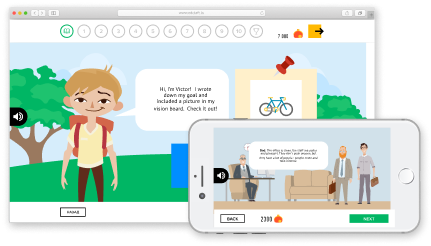 INTERACTIVE GAME STRUCTURE
The child solves plot game problems and helps the heroes of the game with real-life financial issues.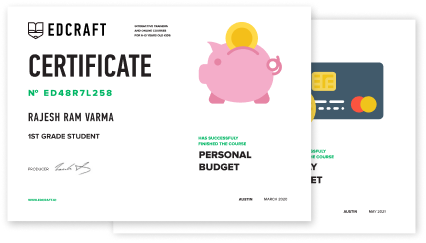 KNOWLEDGE TESTS AND REWARDS
At the end of each topic, the child goes through a final game to test and consolidate knowledge and receives a diploma if successful.
Start free trial
What else do we have in EdCraft?
Complete by yourself or together with your kid. It's fun, educational and takes only up to 10 minutes for the demo lesson.