Money management for kids
Just in a few months your child will learn how to manage money, work with bank products and make smart financial decisions — all in interactive story-driven format.
TRY DEMO NOW FOR FREE
TRY DEMO NOW FOR FREE
Fast development of financial literacy basics and money management skills
In a couple of months of studying just one hour per week your child will be able plan his or her finances, understand basic banking products and develop a remarkable level of financial literacy.
START FREE TRIAL
Try EdCraft money management game courses for free
Kids Money Management Online
Check out our story-driven interactive game tasks
that your kids will face in Money management courses.
Free of charge. No signup required!
try demo for free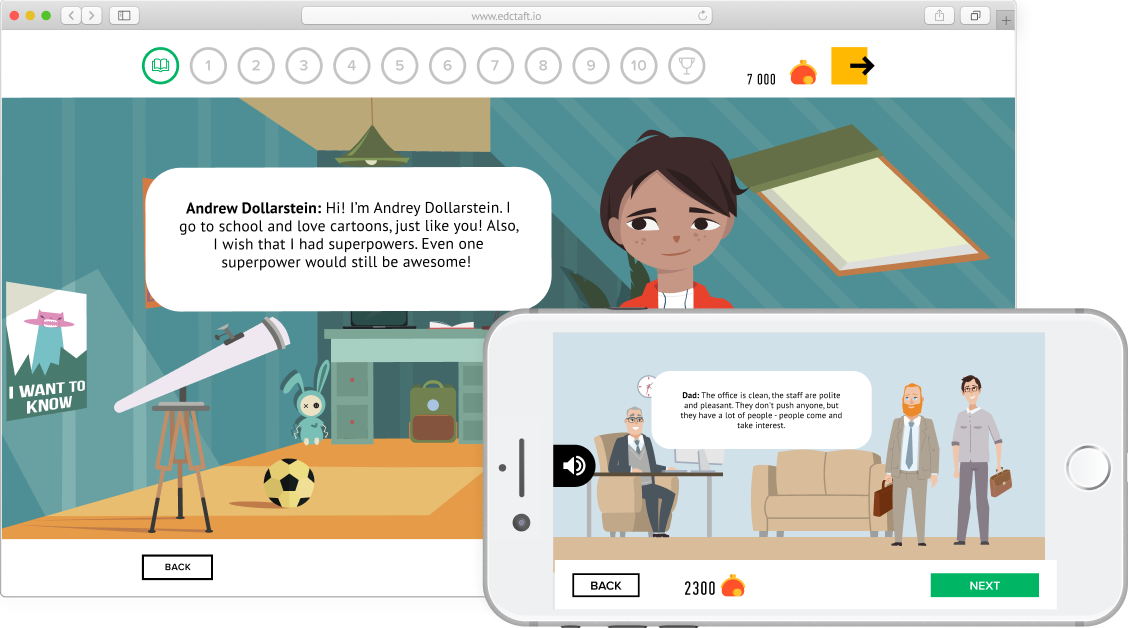 Teaching children money management:
Instill self-discipline
Money management skills make your kid responsible and rational about his/her personal finances, which is beneficial both in the present and future.
Give useful information
This knowledge is not usually taught at school. However, it is highly important in everyday life, so the earlier a kid learns it, the more profit he/she gets.
Prepare for adulthood
Nowadays, children become mature pretty quickly, so they'd better be sensible by the time they get a right to use banking products to avoid financial trouble.
Make a kid financially literate
Financial literacy is a crucial skill today because it helps us to avoid different kinds of frauds and cheats — forewarned is forearmed, as they say.
Only useful knowledge and essential money management skills
START FREE TRIAL
In EdCraft money management lessons kids solve game tasks based on real-life situations
Carefully crafted by
experts in kids education
All money management lessons are developed by subject experts from top US and international universities. Our content creators are doting parents, committed educators, and lovers of learning!
START FREE TRIAL
How to teach money management to kids?
These simple tips will help you teach your child how to manage money and make wise financial decisions.
START FREE TRIAL
In EdCraft kids master their money management skills by solving game tasks that keep them involved throughout the learning process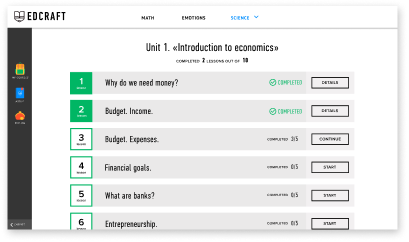 WELL THOUGHT-OUT PROGRAM
There are only the best sources used in our games, including the leading expertise of methodologists and psychologists.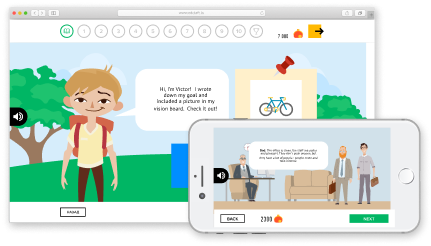 INTERACTIVE GAME STRUCTURE
Real-life financial issues are packed into a plot-driven story where a kid should help a character solve them using new knowledge.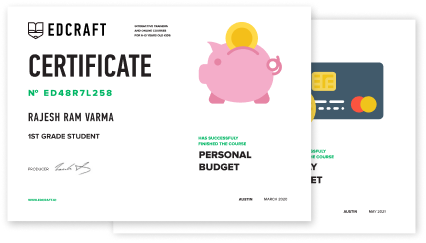 KNOWLEDGE TESTS AND REWARDS
At the end of each topic, a kid is offered to pass a test in a game format and receive a diploma if the answers are correct.
What else do we have in EdCraft?
Complete by yourself or together with your kid. It's fun, educational and takes only up to 10 minutes for the demo lesson.